By EVPAD |
18
March 2021 |
0
Comments
EVPAD 5S TV Box Review & Evaluation Report
EVPAD 5S TV Box Overview
EVPAD 5S - THE WORLD'S 1ST VOICE-ACTIVATED AI TV BOX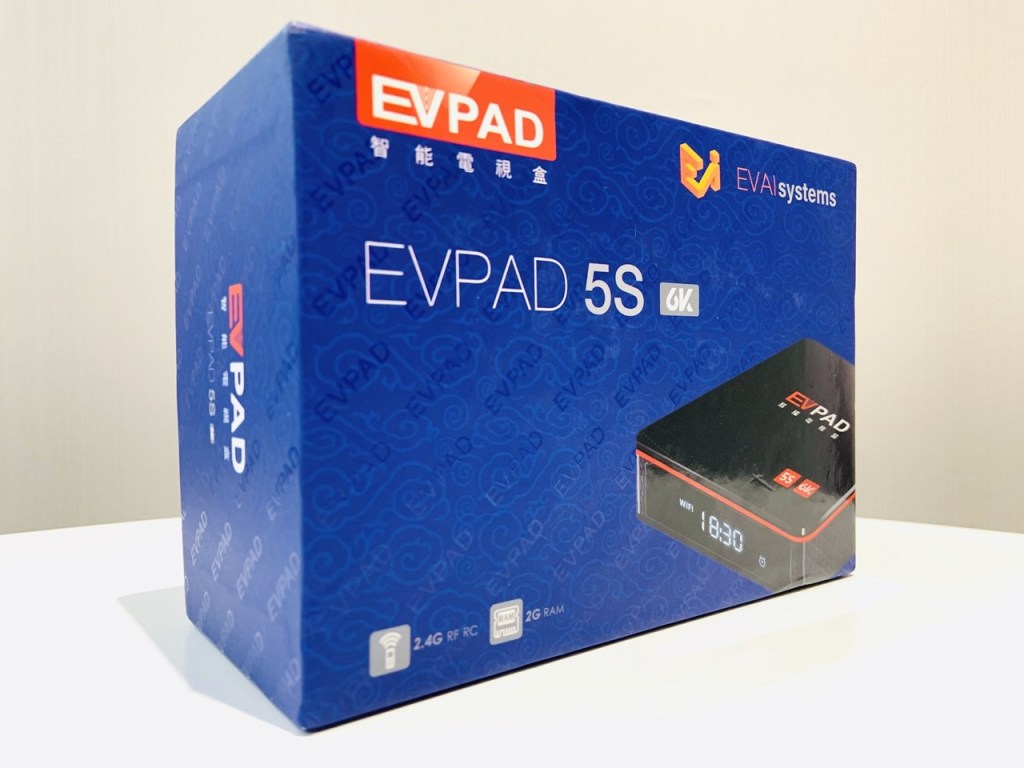 Powerful 8-core Processor, Global CDN Acceleration
The 8-core CPU+GPU with a clock up to 1.5GHz brings perfect performance to the TV box, while the global CDN acceleration technology makes the TV box streaming fast and smooth.
6K Picture Quality
6K Resolution, HDR Technology, Dolby & DTS Audio Bring a Treat for your Eyes and Ears.
Bluetooth 4.2
Wirelessly connect game controllers, headphones, speakers and other Bluetooth-enabled devices.
2.4G/5.8G Dual Band and Dual Channel WiFi
Download and transfer HD video and large data files quickly and easily.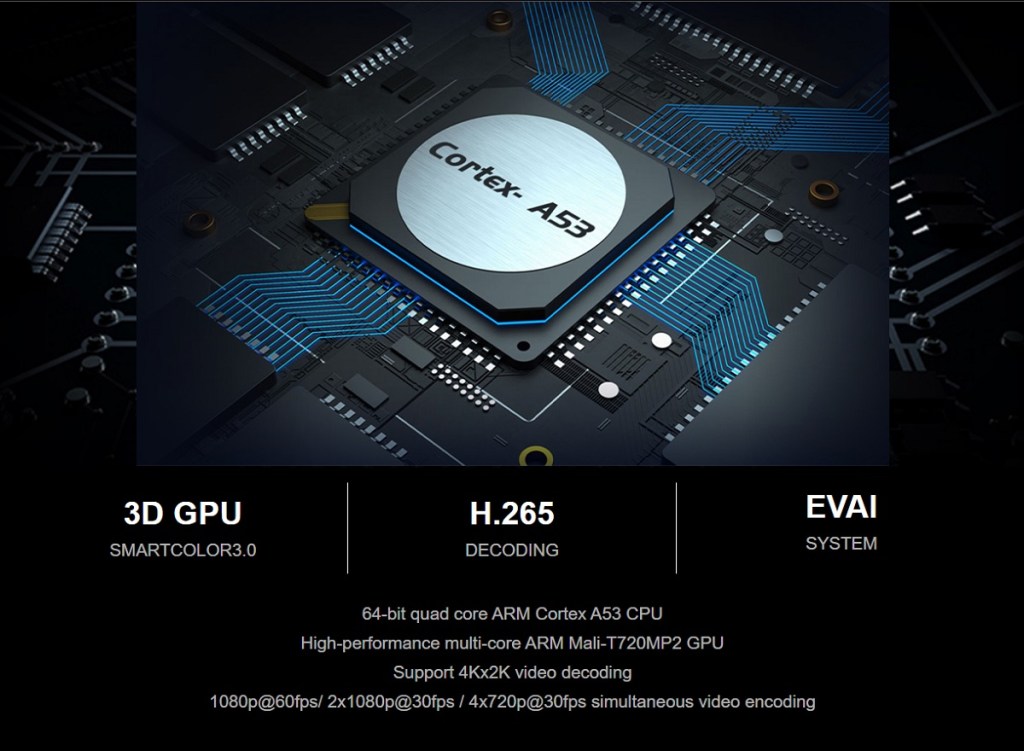 EVPAD 5S TV Box Specifications
CPU: Quad-core A53 64Bit
GPU: Mali-T720MP2
OS: Android 7.0 or Higher version
Memory: 2G DDR3
Flash: 16G EMMC 5.0
WIFI IEEE: 802.11 a/b/g/n/ac 2.4Ghz +5.8Ghz
Bluetooth: BT V4.2/4.1/V4.0+BLE/V3.0/V2.1+EDR
LAN: 100M standard RJ45
Video output: Support 4Kx2K & Full HD1080P@60 fps video output
Audio:
MPEG L1/L2
AAC-LC and HE ACC V1/V2 decoding
APE, FLAC, OGG, AMR-NB, and AMR-WB decoding
G.711(u/a) audio decoding
G.711(u/a), AMR-NB, AMR-WB, and AAC-LC encoding
Video:
H.265/HEVC Main/Main 10 profile@level 5.1 high-tier
H.264/AVC BP/MP/HP@level 5.1, H264/AVC MVC
VP6/VP8/VP9/ MPEG1/MPEG2/MPEG4/
Support 4Kx2K decoding
1080p@60fps/ 2x1080p@30fps/ 4x720p@30fps simulaneous encoding
Photo: PG, JPEG, BMP, GIF, PNG, JFIF
Languages: English French German Spanish Italian etc multilateral languages
Remote control: Support Infrared / 2.4G remote control
Power supply: Input 100-240V output DC 5V/2A
Front Panel: Colorful Lamp & LED Display
I/O: DC IN, IR Extension, LAN(100M), HDMI, AV-OUT, SPDIF, USB2.0 (1), USB3.0 (1), TF-Card
Machine size: 96*96*19mm
Machine weight: ≤100g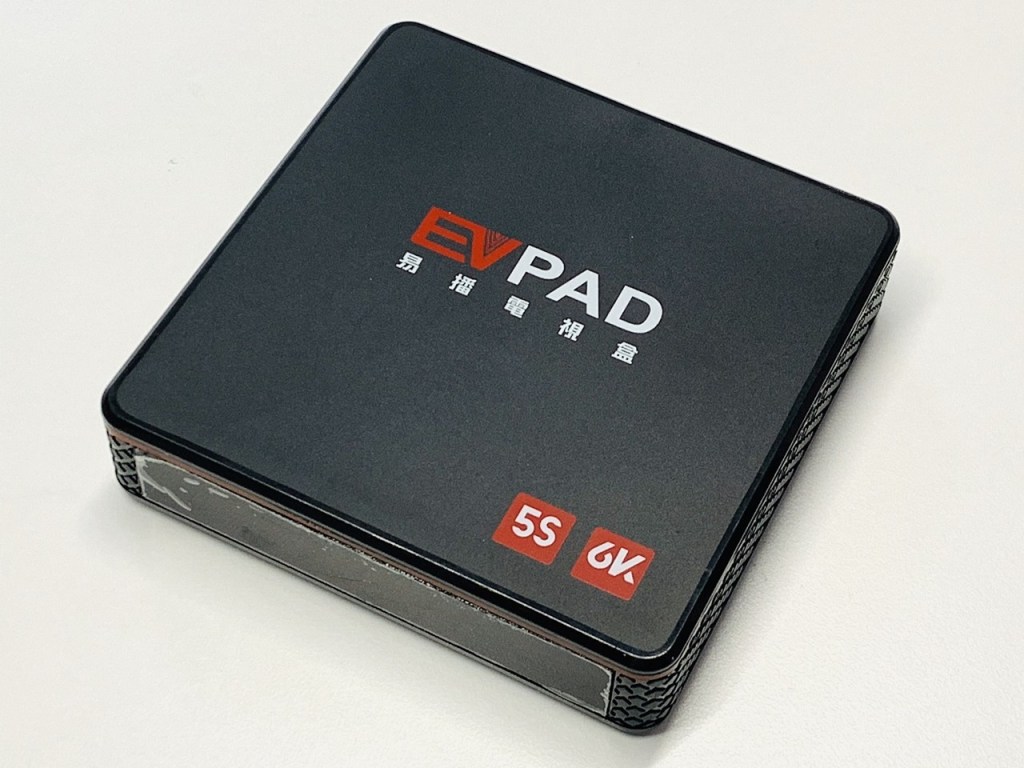 EVPAD 5S TV Box package comes with:
The TV box, USB/DC power cable, HDMI cable, remote control, user manual, power adapter and a UK-type connector.
The EVPAD 5S
For connectivity, there are 2 x USB ports, 1 x SD Card slot, 1 x 100MB LAN, SPDIF-out, HDMI output and an AV jack. At the front of the TV box, there is a LED display panel showing the time and LAN/Wifi icon.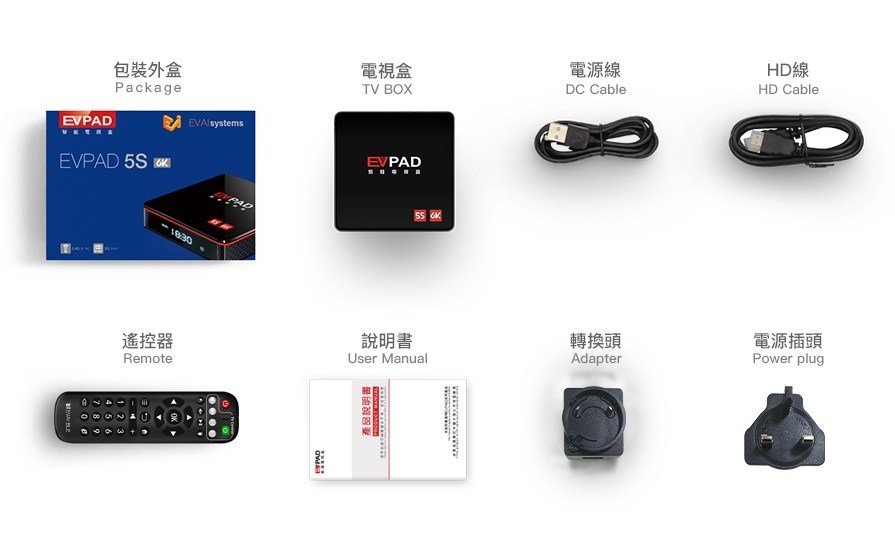 EVPAD 5S TV Box Menu System:
The first thing to do is to change the default language to English. Once the initial language setup is complete, you need to press "6868" on the remote control to enable the EVPAD 5 App store where you can download the apps for Jupiter LIVE TV channels and Jupiter VOD (video-on-demand).
There are various apps available, including Chrome, various Chinese apps, YouTube, Netflix and many more.
For adult channels … you need to download and install some extra apps. Enter this URL (12348989.cc) in the browser and click download and install the packages TSTT and SMZB. Once installed, you can set your own password.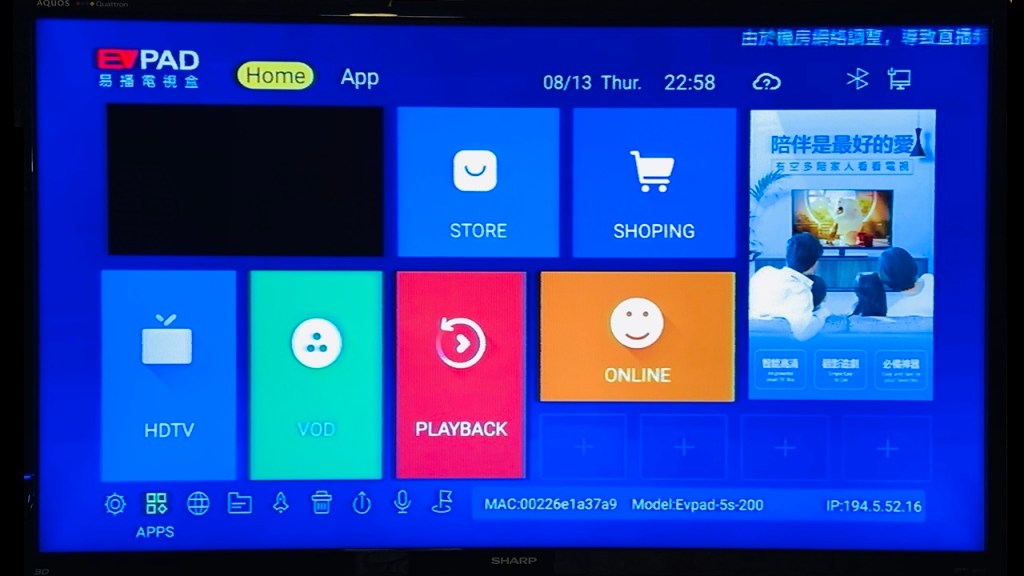 EVPAD 5S TV Box Channels
OMG! Look at all the content available. We got over 1,000 Live TV Channels- China, HK, Taiwan, Korea, Vietnam, Japan, Malaysia, India, US, Canada and many Adult channels. Over 10,000+ movies & TV shows. No Monthly Fee!
EVPAD 5S TV Box Verdict and Conclusion
The EVPAD 5S is an excellent TV box and media player. It's another "must-have" for anyone who wants to watch 1,000's of movies and TV series for FREE. Yes, it's FREE. The menu system is fairly simple, although they could have made it a little bit more user-friendly for English language users.
Wifi speeds are ok, you get both 2.4G and 5G, however, I recommend using a physical LAN cable for extra stability and smoother playback.
Video quality is excellent. You get the usual 1080p resolution on all TV channels and movies. There's even a 4K movie category for those who's got a 4K TV.
The menu system does need some getting used to. I found it a little hard to search for English language channels. Yes, they are all there … you just need to scroll through the list LOL.